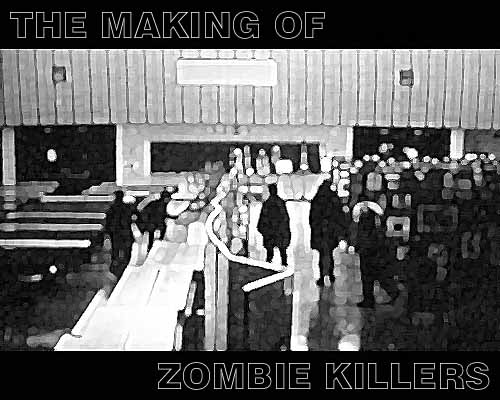 Updated November, 2003
Zombie Killers was shot on location at C.W. Jefferys Collegiate Institute in Toronto, Canada. Principle photography took place during December 1999 and was completed in January 2000 for a total of 5-6 shooting days. The cast and crew worked after school hours so they could film inside the mostly empty building,. Caretakers generously helped by opening doors and granting access to different areas that were not particularly allowed to students (most notably, the 'under-the-pool tunnel' and 'boiler-room' sequences).
The film was shot on a Sony Hi8 video Handycam camcorder. By meticulously using in-camera editing techniques, the impression of multiple angles and continuity was given along with the benefits of saving generational video quality by having a directly edited master tape. The music soundtrack and sound effects were later added during post-production using linear video editing systems at Peckham Elementary School in Thornhill, Ontario.
A sequel was in the works and some scenes were shot at the same location (during 2001) but due to the uncooperative nature of the school's new caretaking and administrative staff the ZK sequel was indefinitely shelved.
The famed deleted 'first' scene that included an entirely different cast and location is now available and will be released on the future DVD (T.B.A.).
Now being a sort of underground cult hit with zombie fanatics and horror-genre enthusiasts, a new zombie film follow-up is currently being planned.